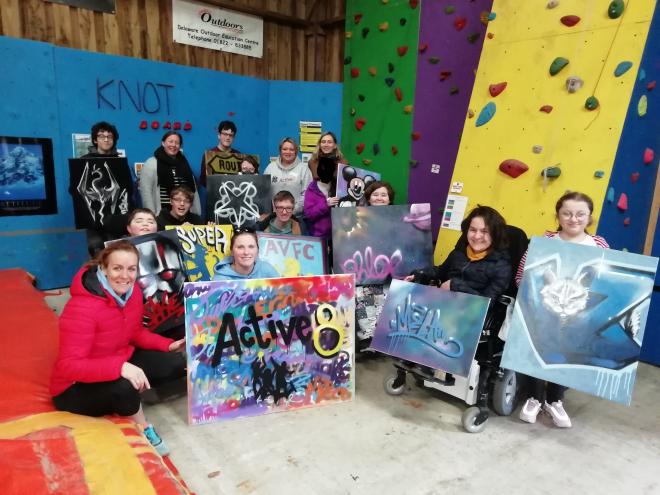 Active8 was created on the request of a young man with a physical disability. He asked her to arrange for him to meet with other like minded young people who faced similar challenges to him. 
A residential programme of 24 weekends over 2 years was started, giving young people with physical disabilities an opportunity to meet up and try a range of exciting, challenging activities. Activities include surfing, sailing, abseiling, disability sports such as wheelchair football and basketball, arts and crafts and music events. Through this programme, young people discover that they can achieve what they never thought possible, and this filters into their everyday lives, where they become more independent and autonomous. 

 
It became evident that once the programme had finished, many young people still needed support to continue their journey to full autonomy. Employment, independent living, use of public transport, continued access to friendship and new opportunities were still areas that young people need support with. In the past, this group has helped organise a trip to the ParaAthletics in London, cookery classes at Rick Steins, theatre trips, visits to Tattoo exhibitions and ComicCons, weekend trips to Butlins and various fundraising activities. This group also supports organisations to become more accessible, the group was invited to visit the Bristol museum to give feedback on how accessible the interior of the Museum was. They were also invited to look at a new accessible holiday home facility in Cornwall and provide feedback. As well as work with Newquay Airport and the Isles of Scilly ferry on their accessibility. 
 
Over the years, Active8 has made a huge difference to young people's lives. One young man attended the Paralympics in London in 2012 with Active8. He returned determined to be an athlete. He swapped courses from IT to Sport and despite having no racing chairs, facilities or coaches in Cornwall at the time, he decided to take up wheelchair racing. He became the 800m and 1500m European champion in his category of wheelchair racing, has now completed a degree in Disability Sport and has moved to Japan where he now lives with his wife.
 
Another young woman was advised by her Careers Adviser at school that she should become a call centre operative as this would ensure she could sit down all day. Active8 supported her to pursue her aspiration of becoming a primary school teacher; she went to University and now is a qualified teacher working in a Cornish primary school.
 
Another young man wanted to live independently and when his mother became unwell with cancer, it was felt by all family members, that the time had come to make this move. Active8 supported the young man to gain a flat of his own and supported him to employ a care agency to support him. 
 
Active8 works with parent carers as well as young people. Our youth workers often facilitate productive communication between the young people and their parents. Active8 also get the parents together regularly for peer support and friendship.